As the COVID-19 pandemic rages on, companies experience the impact first-hand and need to face this crisis head-on. But as the global widespread continues, brands are also stepping up their individual efforts to promote solidarity. From modifying logos to even slogans, some of the world's biggest brands are riding on the wave to build meaningful relationships with its consumers. There are great creative agencies in Malaysia to do this job just for you. But before that, here's how big brands are doing social distancing right as 6 brands reinvent their logos amist COVID-19! 
You'd probably be able to spot this logo from a mile away with its iconic red and yellow colours. Now, you'd still be able to spot them, but with the two yellow arches set apart. In the efforts to promote social distancing amid the coronavirus outbreak, McDonald's Brazil modified its logo, along with ceasing its dine-in operations. Although physical signages have not been altered, the campaign can be found across their social media posts.
A little goes a long way – just like how Volkswagen separated the V from the W to remind you to stay at home. The brand and its famous emblem is now an advocate of social distancing. Not only does it tell a narrative of the brand's values, but it also retains brand recognition. Subtlety can never do you wrong. Similar to how the government is telling you not to panic-buy tissue rolls by telling you the dos and don'ts during the coronavirus pandemic. 😉
Amidst these trying times, Audi had also released a modified logo to illustrate that they are in solidarity with everyone. The brand added a little wit, yet kept it simple to show that they are with everyone to #flattenthecurve. While retaining brand awareness, a slight tweak with the four rings was all that was needed to show Audi's efforts in staying relevant for its audience. The four rings went the distance.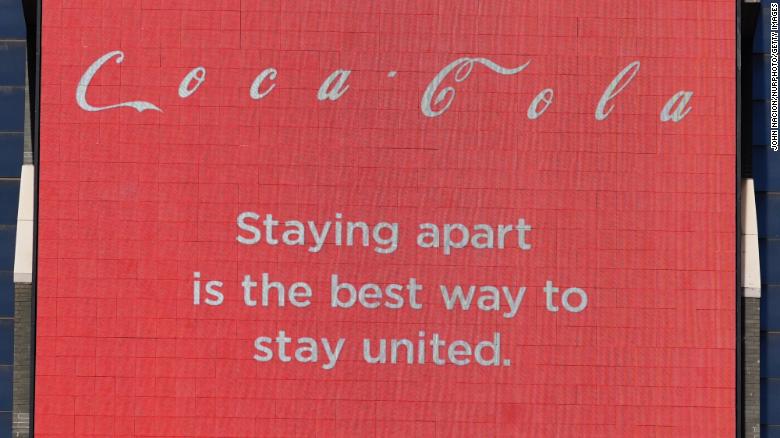 Coca Cola's branding has been widely acclaimed for its exceptionally feel-good advertisements and campaigns. And now, they continue to celebrate togetherness. Coca Cola also made a social distancing logo, which of course, illustrates the brand's logo spaced out (in the middle of the now deserted New York Times Square).
This automotive company is the latest to hop on the bandwagon of social distancing logos. Revamping its iconic three-pointed star to be smaller, while keeping the distance from the outer circle. To show its support in combating the virus, it is another message reminding everyone to keep your distance and stay within your own four walls.
Here's Medklinn Malaysia's take as they revamp their logo in light of the COVID-19 situation. They convey their solidarity in the fight against the virus coupled with friendly reminders on the importance of practising safe distancing while Malaysia is on Movement Control Order (MCO). The Facebook post features the logo reinvented with a witty touch as the letters 'maintain' social distancing. Staying connected with their audience on social media in these times is also how Medklinn Malaysia is putting the social in social distancing.
Like dalgona coffee, social distancing is a trend. Tweaking your brand logos as a reaction to the daily happenings around us not only humanises your brand, it makes you a lot more fun. Or in times like these, it shows that you have a heart. Just like how you and I can make a difference for our community by staying at home to slow the spread, big brand names are also amping up their branding efforts to remain relevant. If you're looking for a creative agency or a digital marketing agency, you're at the right place. Chat with our sales team, and we'll look to do the best for you.
Stay safe and healthy folks!