Building a website is fundamental to every business. And that goes without saying, for your restaurant as well. In the highly interconnected world we live in today, consumers often digitally visit your store (via the website or social media) even before gracing you with their presence physically. It can either persuade potential customers to visit or kill the interest entirely. As such, it becomes that your website is instrumental to expand your consumer base. So understanding your audience, opting for functional website design, optimising imageries, improving accessibility, ensuring your site is intuitive and investing in search engine marketing are just some ways we think you can boost your online presence. With that said, it is important to keep the customer experience at the forefront of digital transformation. As a creative agency in Malaysia ourselves, here are 6 of the best website design practices for restaurants we think can get you to drive traffic. Let's get into the details!
1. Understand Your Audience
As simple as it sounds, it is number one on our list for a reason. In the year 2020, consumers know their food. So we're going back to basics — know your audience. How old are they, what do they like, what do they not like, what are their purchasing powers like, what are the latest food fads etc. Knowing your consumers in and out will mean you can identify the most effective ways to be of purpose and value to them. This way, they can't help but be inclined to your brand. Plus, in the face of the internet and the abundance of information, consumers want to know what goes into their food. The need for transparency then becomes an obligation that food business owners should fulfil to reassure the hearts of potential consumers. Study trends driving change in the food industry and incorporate it into your website strategy to reap the full benefits.
2. Opt for Functional Website Designs
By functional, we mean clutter and fuss-free. Every business needs a good website design. But a restaurant's website needs to be more than just good. It should be able to serve its purpose and that is, to inform consumers about the restaurant and what it offers. From restaurant locations to the menu, there might be a lot of information to plonk on a website.
*Cue UI/UX design*
User Interface (UI) and User Experience (UX) development have become an integral part of many websites. More than just the aesthetic factor, UI/UX designs serve quality and effective interactions for your user. There are separate best practices for UI design and tips to improve UX on your website. But if this is all too overwhelming for you, let us decode it with you. If you're keen on revamping your website or looking to enhance the UI/UX experience, you can work with us to see it come to life. Here's our favourite example of functional designs yet with an aesthetic touch from Sitka Eating House and Sitka Studio: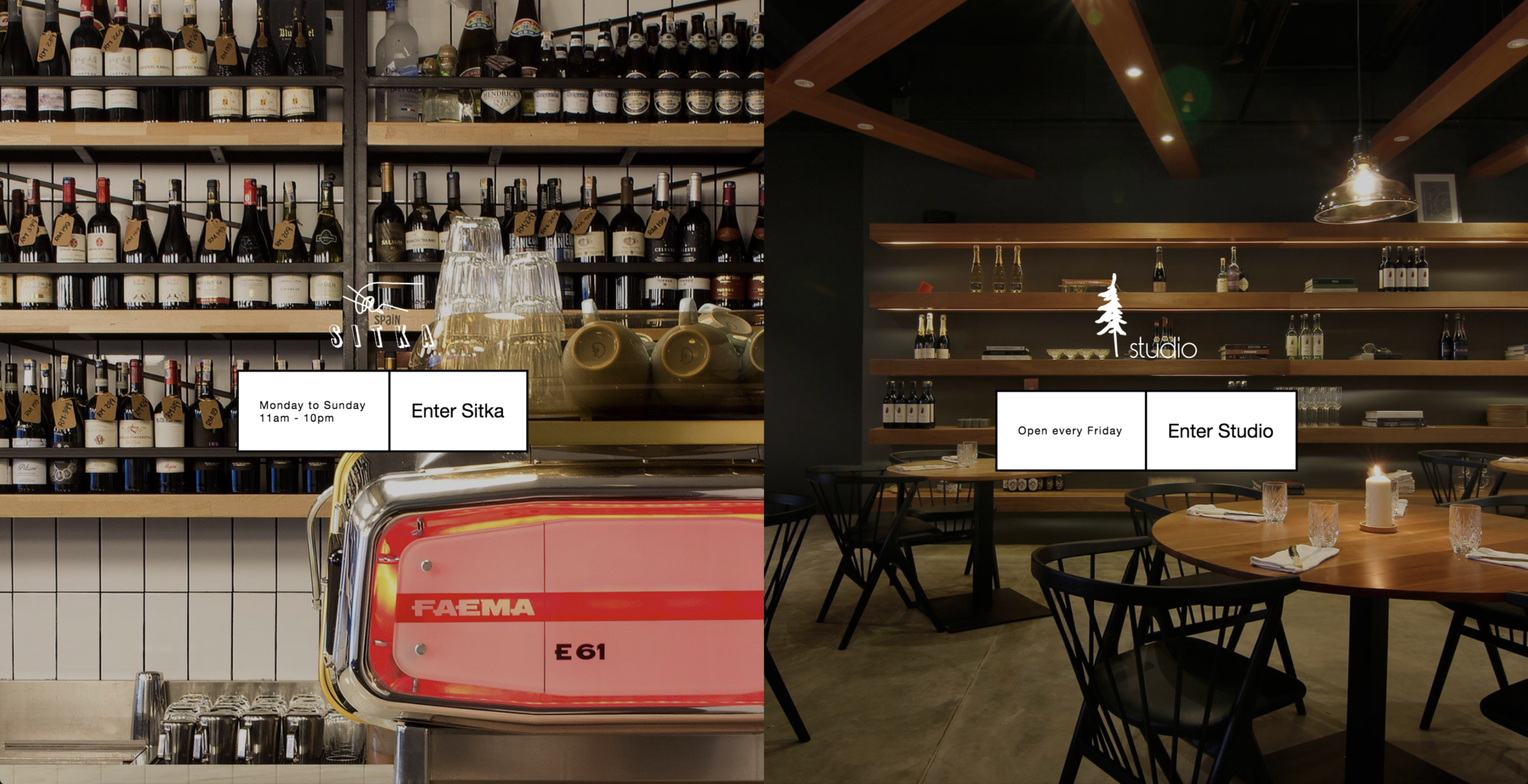 Having two separate entities, they've made the distinction clear right from the get-go when users land on the website. The perfect example of cutting to the chase and being smart with it!
3. Optimise Imageries
What better way to capture your audience's attention than through mouth-watering photos? Visual content is crucial for customer engagement as it's easier to consume and more visually pleasing (compared to text). Leveraging this factor alone, your restaurant can look forward to translating the quality of your food via your photos with high-quality photos and video to display on your website. This not only boosts your restaurant's credibility, but it also can translate into driving higher sales for your business. Besides, if your restaurant boasts stunning interior design, that can be a major plus point for your business too. I mean, did you really visit a restaurant if you didn't 'Gram it? People love taking photos of food places *ahem influencers or wanna-be influencers* so you've got nothing to lose by enhancing the interior of your restaurant. This is an example of how South Sea Malaysia chooses to utilise a video on their homepage of their website to feature their unique selling point (USP) — their range of seafood that boasts of products from all across the world: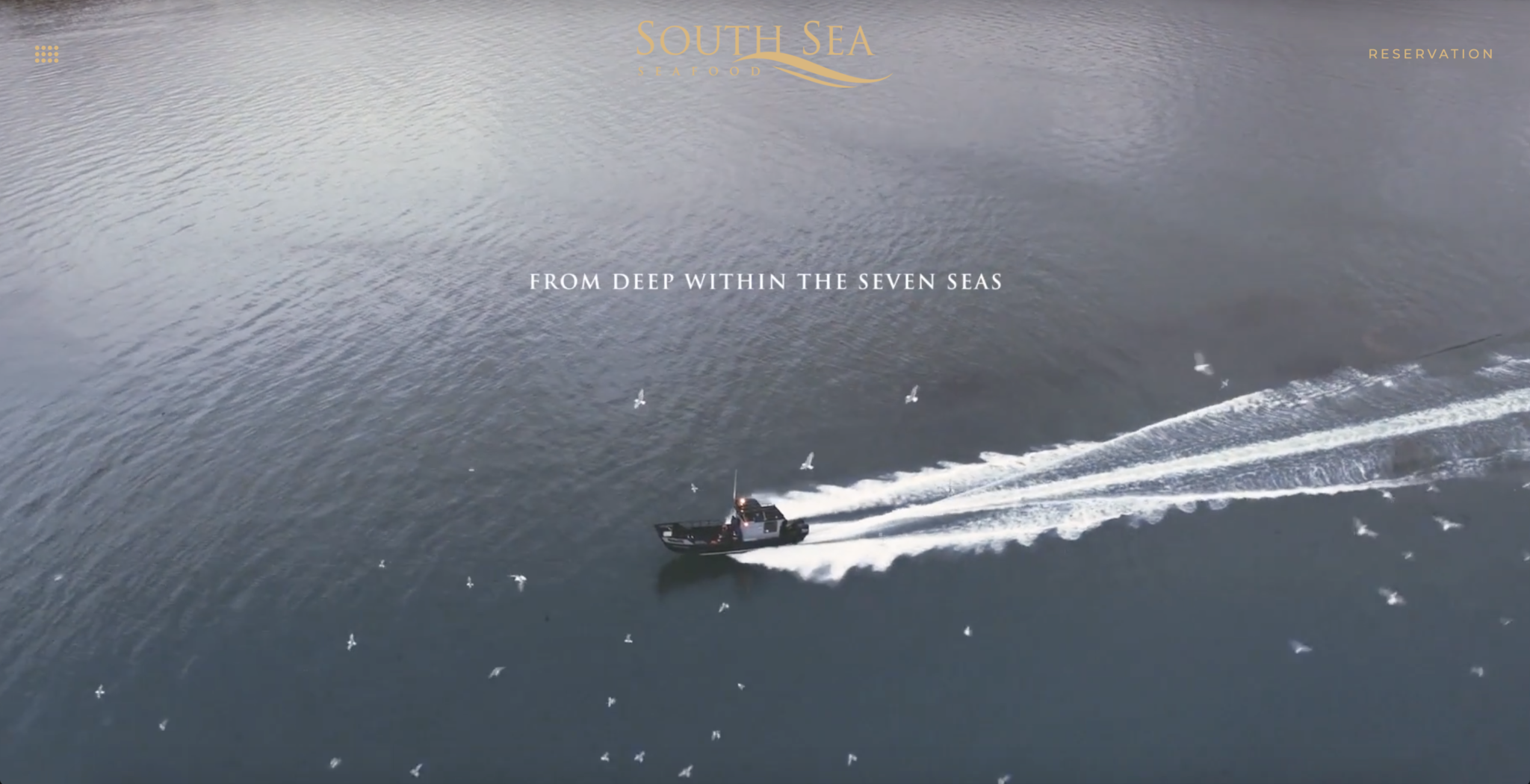 4. Improve accessibility
Don't make it hard for consumers to find you online. Especially with the hit of the coronavirus pandemic since February, going digital has been the sole option for many businesses. There is simply no more on relying on your brick-and-mortar store alone. Although MCO measures have eased over time, it is still crucial for businesses to ensure consumers can easily locate them online. That goes without saying that foodies will do their prior research and look up restaurants to eat at even more often now. Ensure your domain name corresponds to your restaurant name and include the restaurant's URL on your social media pages. Plus, ensure your web design is responsive to meet the trend of increased mobile media consumption.
5. Ensure the website is intuitive
An intuitive website is often emphasised but what does it actually mean? Simply put — if a website is easy to use, it is intuitive. And if it's intuitive, consumers are inclined to explore your page a little longer. This not only allows you to increase your web conversion rates, but it also enhances the UX for a consumer. From design to the content, copywriting and even the page speed, many factors contribute to the intuitiveness of a website. Discuss with your website designer to see how you can enhance develop the UX of your website. 
6. Invest in SEM
Search Engine Marketing (SEM) never proved to be more effective in improving visibility and online marketing. SEM essentially refers to paid search advertising where it's the quickest way to appear as number 1 on search engine results pages. It's great for driving traffic to your restaurant's website and garner increased brand awareness. Here's a screenshot of what it looks like:

So what about it, you may ask? SEM can provide instant results in terms of driving traffic and converting visitors into consumers. Plus, it's a perfect campaign strategy and highly cost-effective if you play your cards well. SEM has the power to do all that, and more. If you're keen to explore digital marketing with us, come chat with us!
That's it for the 6 best website design practices we have specifically for restaurants! Make every dollar worthwhile when you work with us to enhance your restaurant's website design. Drop our brand guardians an email and we'll see just the recipe we can cook up for you!