In today's digital landscape, checking your social media account is equivalent to reading the newspaper while you sip on your freshly brewed coffee in the morning or reading a bedtime story before you head to sleep. It has become that you simply can't leave social media out of the equation if you're looking to digitally market your business. So what exactly can social media do for your ecommerce site you may ask? The potential that social media holds to expand your business, is endless. For starters, here are a few things you could leverage on: in-app purchases, influencer marketing, paid ads and functional content. Anyhow, whether a healthcare or beauty business, we're about to bring you 6 ways you can capitalise on social media for your ecommerce website in Malaysia.
Utilise in-app purchasing
What's the quickest way to convert your social media followers into paying consumers? When you don't require them to leave the platform. Instagram (IG) has 1 billion users on the platform in a month. Plus, the addition of in-app checkout on Instagram last year just made shopping more accessible for its users. Gone were the days when you had to exit your IG app to do a search on your browser just to check out the new pair of trainers that was advertised on your feed. Although it does come with a platform fee, this checkout feature allows for a seamless user experience by not directing consumers to a pop-up web view before they actually land on the product page. As the number of users on social media continues to grow, so may your boost in ecommerce sales. Look to bring your products closer to your audience to see an increase in sales. Here's an example of how ZARA is selling on the platform:
Photo Courtesy of The Verge
Leverage on influencer marketing
Let's face it, as much as we lament that social media influencer only thrive on sponsored content, there's always a lingering thought that they leave you with — "If my favourite content creator loves it, chances are, I would too." The concept of influencer marketing centres on tackling the consumers within the following of your selected influencer. They act as a thought leader and their choices may highly impact the users' as well. Not only does this build your brand's credibility and awareness, but engaging influencers is also a great way to increase the visibility of your ecommerce website. Moreover, many brands love to give out a unique promotional code to encourage sales. This way, you can also track the returns of this strategy. If they didn't have a reason to love your brand before, now a content creator with a high number of following and influence can plant the thought in their heads that they could learn to love it too (just like they did). Here's an example of how @mfmirafilzah models for clothes from GALERI ARIANI on her Instagram:
The key here is to identify which platforms work the best for your brand (Facebook, Instagram etc.). Identify the demographics of your target audience and dive into the specific platform that you wish to advertise on. Be it Facebook advertising or Instagram, there are multiple ad format options for you to choose from. With the ever-changing algorithms of social media, it is also important to keep track of what could possibly work for your ecommerce business. For example, you can explore Facebook's dynamic ads to shout out selected products from your vast selection. This is how Shein is reaching out to relevant consumers: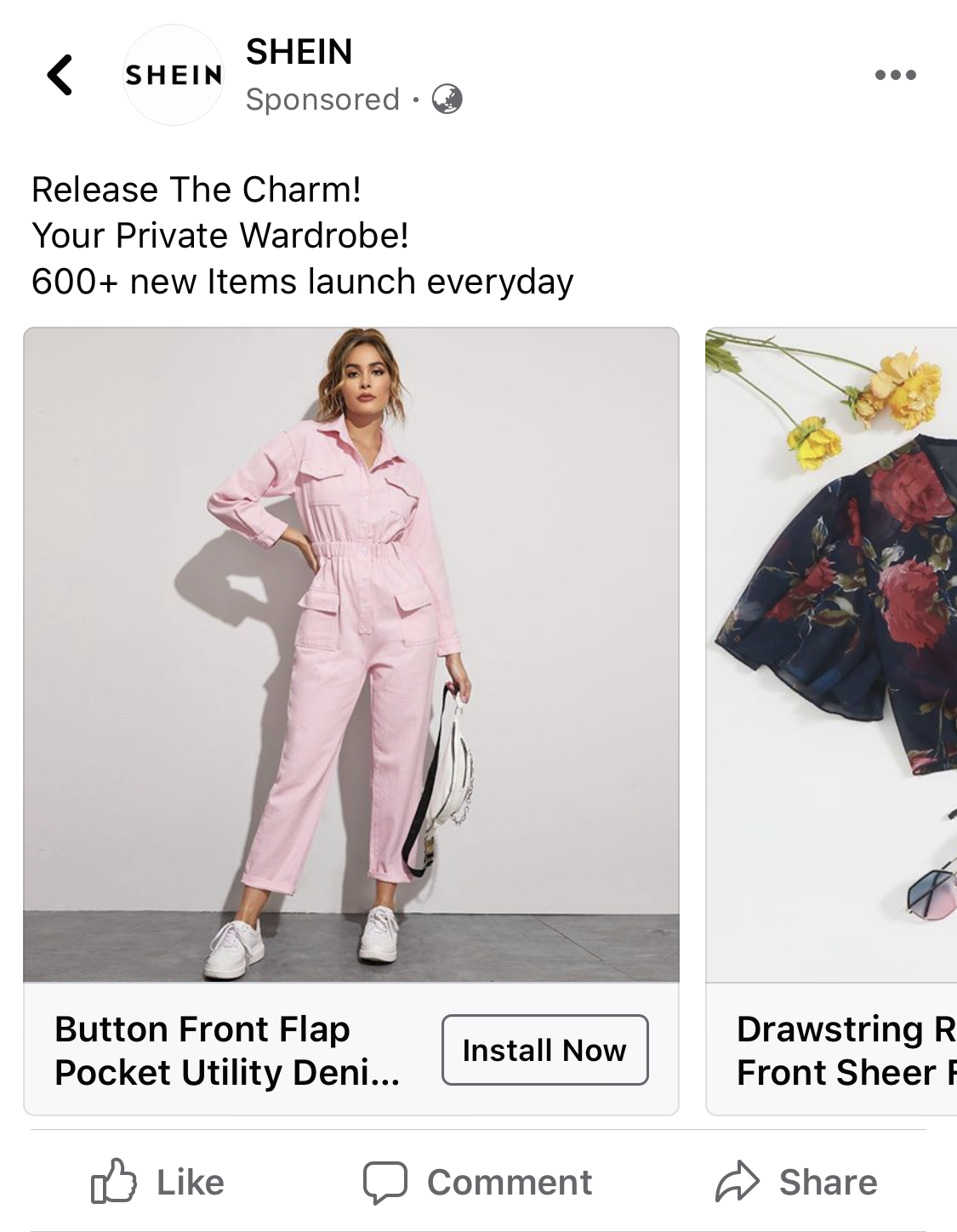 It can be tedious work to focus your efforts on paid ads so you can opt to engage an agency that focuses on digital marketing in Malaysia to do the job just for you.
Sell with Instagram stories
Imagine a lazy Sunday afternoon: you're scrolling your social media account for news or insignificant updates of your followers before lazily clicking on someone's Instagram Story. And it just so happens that the gym membership promotion you were checking out on your browser previously, appears as an ad in between Stories as if it knew. So you jam your thumb on your phone screen to take a good hard look at the ad (as if it was your first time). Now this leaves a lingering thought in your head as you go about the rest of your day — to buy or not to buy? That's exactly what an IG ad or IG Story can do for you.
Upon the launch of the Instagram Stories in 2016, it has taken the world by storm and is now one of the features that the platform thrives on. Many brands have also taken to IG stories to reach their consumers further. It is not only convenient and inexpensive, but Stories are also a great way to help you ensure you are reaching the right audience by targeting specifically your own consumer base. Take a look at how Fashion Valet works with Instagram stories: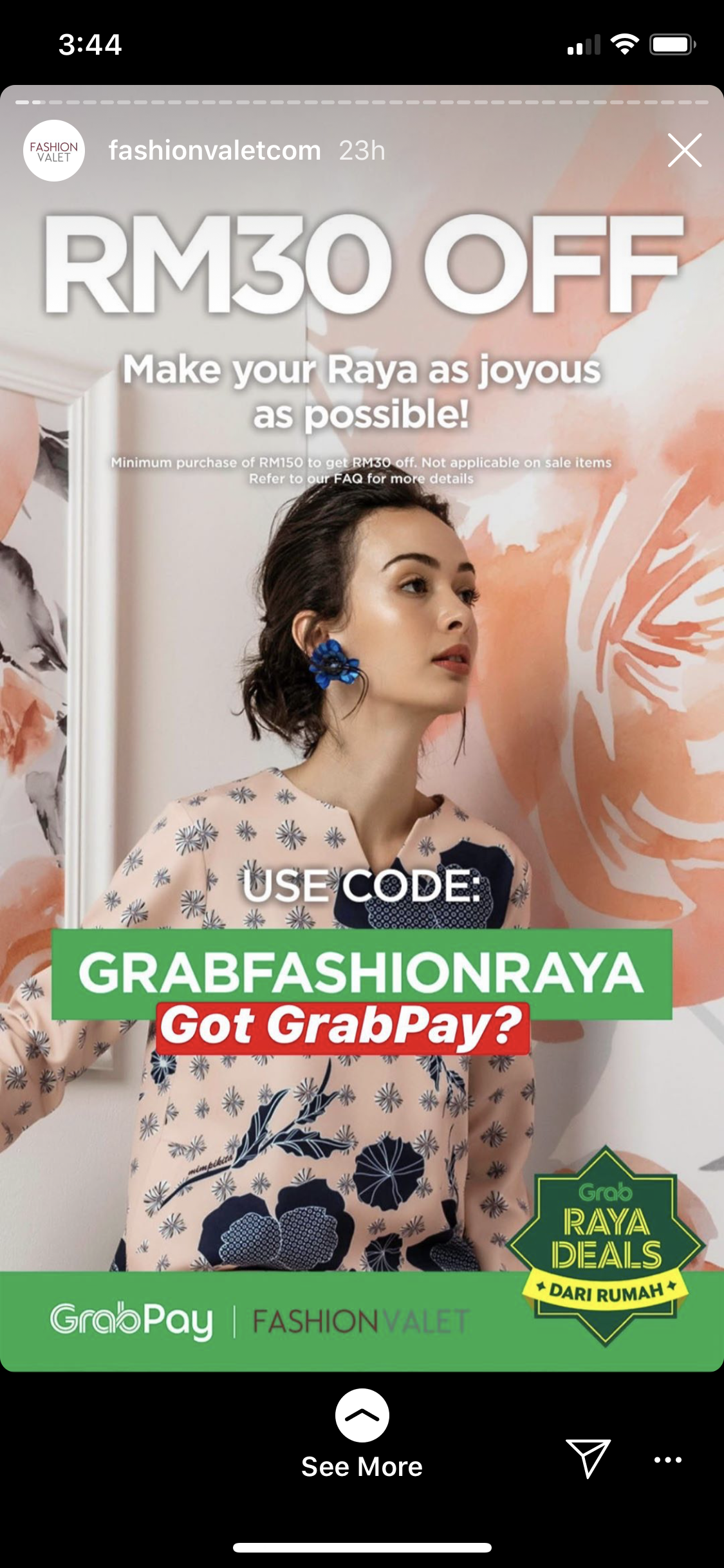 Focus on functional content
Establish a strong social media presence with the use of strong visuals and catchy copywriting. Essentially, it'll be ideal if your social media account becomes an extension of your ecommerce website and successfully drives revenue to your website. In order to achieve the desired outcomes, it is vital to channel your efforts to creating content that will add value to your brand and its products or services. Here's an example from À LA MODE Singapore, an online fashion resale platform for the buy and sell of secondhand clothes, where they demonstrate their business model concisely in the form of a short video:
Who doesn't love freebies? At least we know we do. Incentivising your consumers is the best way to drive traffic to your ecommerce website and spark conversations with your audience base. Not only does this shed light on the variety of products your site has to offer, but you could also garner higher traction and get people talking about your brand. This can aid in improving your brand's reputation and instil trust in your consumers. Plus, you can afford to add a touch of wit, sense and humour to humanize your business. Switch up your contest mechanics to even attract a higher number of followers or see an increase in your engagement numbers. Here's how Sephora Malaysia engages with its consumers on Instagram:
Be where your consumers are. Social media is no passing trend and if you have yet to hop on the bandwagon, it's about time that you did. From our boomer parents to our pet's IG account, the audience on social media is aplenty. Understand and optimise your sales funnel to ensure you're on the right track. If the mentioned pointers seem like it's too much work for you — let us guide you. Drop our brand guardians an email and we'll see how we can work social media to be the secret sauce to your effective digital marketing.