Yet another MCO extension in Malaysia was announced the other day, and a couple of industries have already been hit hard by the movement and business restrictions, i.e. travel, tourism and real estate. One aspect that businesses have been adapting in the face of the coronavirus backlash is website design, and particularly designing for a crisis. 
For an industry as unique as property development, it's challenging to consider how to utilise the existing digital tools in developing or revamping your existing web design and keeping your audience engaged to your brand.
Having been a web developer in Malaysia all these while, we've picked up a few tricks of the trade and the best web design tips that can be essential during this pandemic. I guess it's time for us to let you in our little secret for free, I mean who doesn't like free stuffs? 😉
Let's get down to biznez.
3D Virtual Tours
Not a unique feature by any chance, but more so an under-utilised one. 3D Virtual Tours offer the audience an interactive perspective of any location that has been mapped out, all from the comforts of their homes.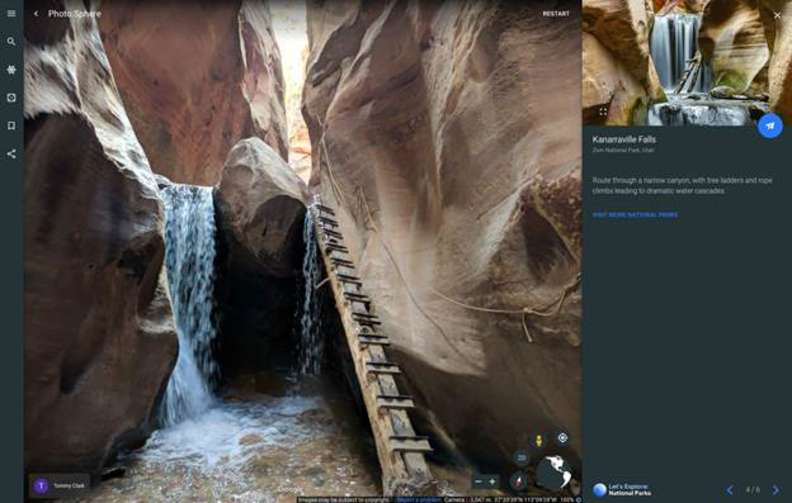 (Taken From Thrillist)
Google Earth's Voyager has been offering virtual tours of the digital nature for iconic landmarks, on well… Earth. On a smaller scale, real estate and property development companies should leverage on this technology to continue their operations, which includes a walkabout in the developed properties.
Simply map out a 3D image/video of the various locations within the property and create your own virtual tour! This not only helps you get around the existing MCO restrictions, but it also improves the interactivity of your web design.
Realistic Photography
Most property development companies will know this: you need glamorous and attractive photographs of the property, the area around it, amenities as well as facilities. That's because people are visual creatures, and the cliche saying "a picture paint a thousand words" rings true till this day. 
Using photography in your website design to wow your visitors is one thing, but to actually convince and convert them into potential leads or even potential buyers, that's a whole different story altogether.
What we realised and advise against is the use of overly edited photographs in accentuating the property's value. Given the tech-savviness of the existing Malaysian community, a heavily edited photograph sticks out like a sore thumb and sets unrealistic expectations, making it harder to convert them. With an in-house creative agency at your service, the art directors work alongside the creative directors and designers in determining the art style of your photography and the creatives. For the property world, we'd say this plays a huge role. 
A 3D mockup of the property and concise layout drawings are also crucial so get the right expertise to depict the best visual that will boost your brand value and create positive word-of-mouth.
Laymen Copywriting
We get it, you want to paint a pretty picture for your audience and excite their imaginations of the amazing property you've developed. But there's compelling copywriting and there's flowery copywriting, you don't really want to cross that line and have your audience trying to figure out the meaning of every single word you're using. 
You don't need "cheem" words to write an award-winning novel, sometimes you just need some inspiration and a good story. The same goes for the terms you use as well, keep it straight to the point and easy enough for a first-time buyer to know what to do. 
Copywriting and website design go hand-in-hand, they complement one another. Attractive visuals are effective and all, but you need great website copywriting to upsell your properties and attract prospects.
A Blog Section
Speaking of copywriting, now it's really the best time to delve deep into the content section of your web design. We're talking about adding a blog section on your site. With fewer opportunities to do roadshows and physical tours, some of the efforts can be redirected to enhance the image of your properties and your brand.
Set-up a blog to share your expertise (like ours) on the real estate industry, create guides on navigating a new property or tell some personal stories of the past projects that you've handled and the kind of value you've brought for your clients. You could even create listicles on the various properties that you have coming up to build the hype.
 A blog is not just great for your brand, it's also beneficial to your Search Engine Optimisation(SEO) rankings. By employing smart content marketing and SEO techniques, you can increase the traffic to your website and improve your volume of leads. 
Unclear on how this works? A creative agency with digital marketing expertise will be your best friend for that. 
Follow-Up CTAs
You've wow-ed them with your visuals and you've convinced them with your copywriting. Now it's time to bring them home, and by bringing them home (pun is fully intended here) we mean capturing them as leads and potential buyers. 
To achieve that, you need well-placed Call-To-Actions (CTAs) and a proper way to follow-up with them. Gone are the days where you can call up your leads immediately, schedule a meet-up and shake their hands (especially not this) for a proper follow-up.
So you turn digital. No, not turning into a robot, we mean using digital tools to do your follow-ups. Provide an option for your users and potential leads to chat with one of your agents or even have a video call with them. Nothing says sincere more than facial expressions and your efforts to discuss with potential leads 'face-to-face'.
Real Estate Calculators
A lot of numbers are involved in real estate and properties — taxes, insurance, loans, mortgage, debt-to-income etc, and all of these numbers play a role in the decision to purchase a certain property. 
Hence, it's exceptionally helpful for the users when brands prepare a calculator function built-in within their website, making it convenient for any potential leads to determine their financial capabilities or the return of their potential investment. Just remember to include all of the prerequisite numbers for any property purchase. 
There're a lot of modern website design elements you can include in your real estate and property site these days, however, they have to be beneficial for your audience and help make their decision to convert easier. The real estate calculator is one such example. 
A Website Developer's Helping Hand
The COVID-19 pandemic is a tough situation for most industries, and as a web design company turned creative agency in Malaysia, we understand the difficulties that most businesses and brands are facing. Having in-depth experience with a wide range of clients, we're confident that our expertise and skillsets can help your brand through this period. 
We're reaching out our helping hand now, all you've got to do is grab it. Drop us a call and let's get arrange an e-meeting soon!