In a world where we're confined to the four walls of our homes, the COVID-19 situation is indeed unlike anything the world has ever seen. It is a strange reality that we're living in. One that has forced us to cultivate new habits to conform to our new daily routines. And due to circumstantial factors, it is also highly likely that these habits are here to stay. Undeniably, this pandemic is forcing us to work, learn, spend and even communicate differently. So as we're getting used to our new normal, we see the rapid shift in business approaches and consumer behaviours. These changes may ultimately result in shaping the future of eCommerce, even post-pandemic. As such, digital marketing and eCommerce developers in Malaysia are seeing windows of opportunity. From identifying consumption habits to adapting your eCommerce strategies, sit tight as we discuss the possibilities of our near future.
Identify consumption habits
The Movement Control Order (MCO) was first imposed in Malaysia on March 18th. This brought about a wave of changes amongst Malaysians. Here's a summary of Malaysian's ecommerce online shopping trends amidst COVID-19.
Photo courtesy of Janio
When the restrictions were first imposed, most Malaysians (69%) were observed to only purchase daily necessities. Only a small 27% were buying non-essential items driven by sales and promotions. Amidst these uncertain times, there are still many of us blessed to be holding a job and having the luxury of working from home. However, this may not be the case for all of us. This results in many citizens being mindful of their spendings during this crucial period.
Business owners are adopting the same mentality as well — adapt your priorities to meet the demands of the community. Focus on bringing in items that people need and are on the lookout for and pause on the items that are not so much of a need at the moment. ZALORA Malaysia adapts to the changing times by bringing in essential supplies: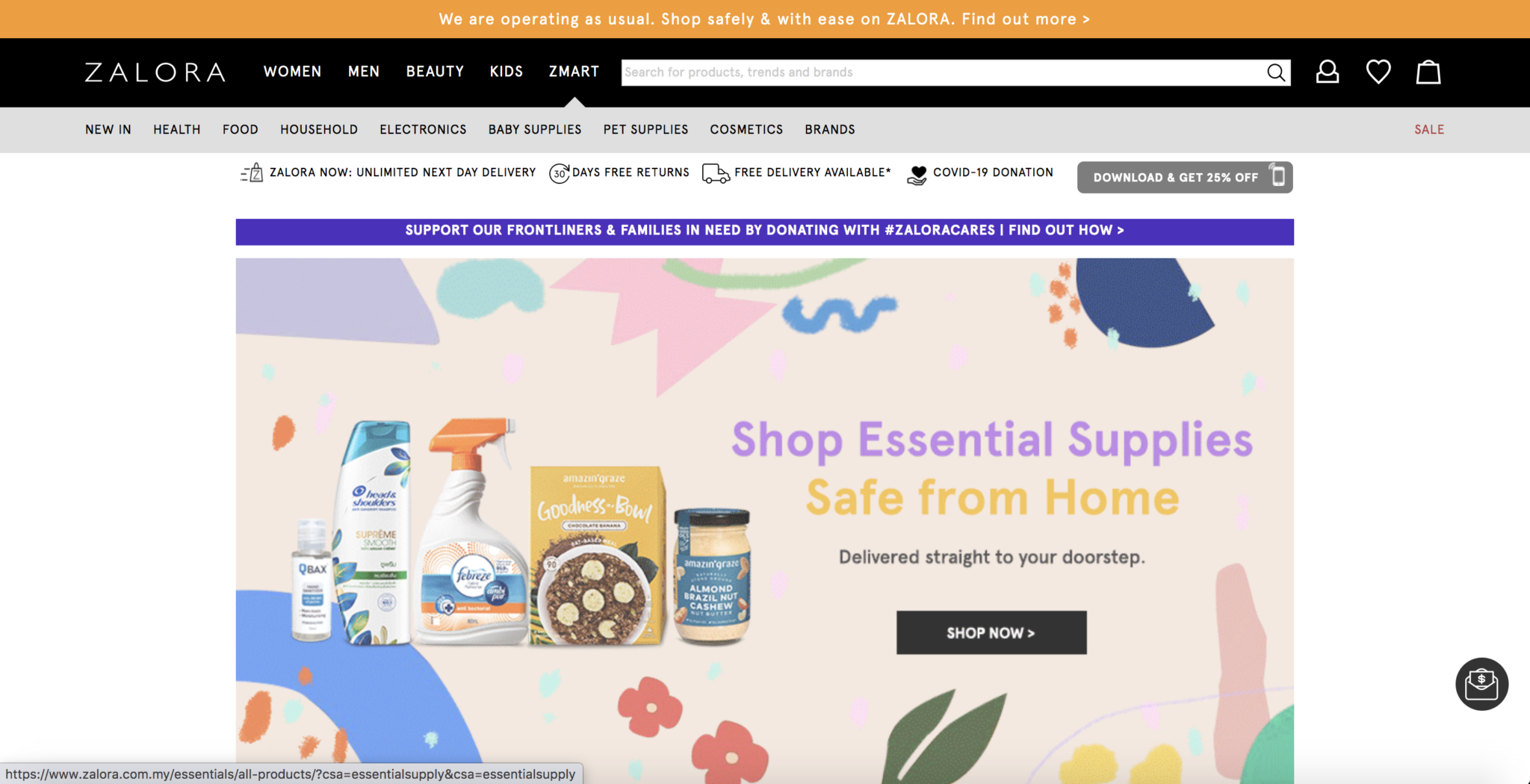 It has also been detected that there is a high internet usage in Malaysia since the MCO was imposed. This behavioural shift has urged many brands to adopt a more digital approach. Brands are reshaping local retail and taking it to social media or eCommerce to connect with their audience. Alternatively, this serves a great opportunity for businesses to build their own eCommerce website. The heavy reliance on online shopping is inevitable as it presents a safer, and possibly, the only option for people to purchase items.
Adapt your e-commerce strategies
As we navigate through this unprecedented situation, the pressure for businesses to adapt their business models and strategies is raised as well. Not only is there a need for brands to be online, but eCommerce websites are required to be responsive, provide high-security measures and offer flexible returns or refunds. Ultimately, the differentiating factor of gaining and retaining customers will be in the brand experience. From website design to the User Experience journey and incentives, there are multiple factors to win the hearts of consumers. Moreover, as the situation forces us to remain mostly confined indoors, these transitions will continuously reel consumers in even in a post-COVID-19 world.
So when will Ms. Rona make her exit? The probability of the coronavirus going away soon is rather unlikely. It is a future that we hope for, but still quite uncertain. Societal and behavioural trends are ever-evolving and it just took a sharp turn since the pandemic took over the world. Amidst the COVID-19 outbreak, let us guide your eCommerce business to ensure that you're present for your consumers. Drop our brand guardians an email and we'll work to devise a solution just for you.