COVEID20 was the buzzword of this year's Hari Raya Aidilfitri. Undeniably, the best way to celebrate Hari Raya this year might just be to stay at home. While most of us are confined to our homes and making sure that we're keeping healthy and safe, brands are also making the most out of this situation to reach out further to the masses. Visiting has turned to WhatsApp, Skype or Zoom calls and Raya #OOTDs could solely only be appreciated via the screens of our smartphones. This religious holiday was indeed a different one for most Muslims all around the world. As they mark the end of the fasting month, many brands have also taken their digital marketing efforts up a notch to show that we should not despair and still celebrate this joyous occasion with our loved ones at home and virtually. From Grab Malaysia to Digi Communications, Petronas and even Maxis Malaysia, here's how some brands are celebrating Ramadan and Hari Raya this year!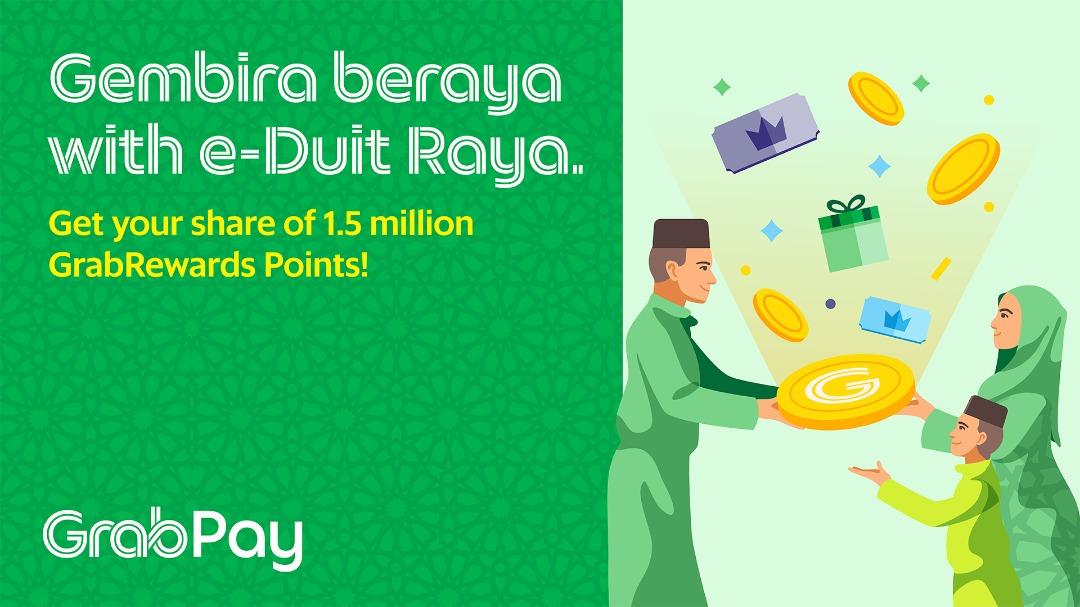 This Aidilfitri, Grab Malaysia celebrates a cashless Raya with GrabPay e-duit Raya. In the efforts to conserve traditions and festivities, Grab is giving out 1.5 million GrabRewards Points. As we all know, the act of giving and receiving duit Raya is synonymous with Hari Raya celebrations for many years. So even if we're socially distant while celebrating Hari Raya this year, no one said you couldn't get your green packets ready! This time, virtually of course. From 24 May – 6 June 2020, users' who send their first three GrabPay e-Duit Raya transfers will each get 50 GrabRewards Points. Plus, the Muslim's tradition of sadaqah is further encouraged as Grab partners with various charities and non-profit organisations for those who wish to contribute, especially during these trying times. The spirit of giving and festivities is still alive this Hari Raya!
Heart-tugging videos are one way to my heart (not that anyone cares, but). Digi Communications rolled out a video which features Norfarrah Syahirah, an individual who is contributing to the community in her own way. Having sewn mainly traditional clothes every other Raya, this year things look a little different. As our Malaysian front liners battle against the coronavirus, the demand for personal protective equipment (PPE) increases. The suit is usually worn once and thrown away to protect the wearer's body from infections. Seeing the need to produce more PPE for nurses and doctors, Norfarrah decided to extend her sewing abilities to contribute to the community. As a person with a disability, she shines through her big heart and warm gestures this Aidilfitri. This is her story of how she keeps frontline workers in Malaysia safe. Nonetheless, there are many admirable individuals who are doing their own little parts that make this world a better place amidst this pandemic period!
Petronas Malaysia never fails to amaze its audience with quality content and videos every year, especially during festive seasons. With a fresh take on the video style this year, Petronas is definitely upping their game with animations in a rather Ghibli style of way. Uncover the story of two long-time neighbours in their kampung houses as they reconnect unexpectedly and celebrate Raya a little special and meaningful this year. With a grumpy pak cik and a chatty mak cik, get ready to reminisce the radiant vibes that fill the Raya air each year. Although we're physically distant, we can still keep our loved ones close in our hearts no matter!
Of course, I had to save my favourite video for the last. Many brands are adopting varying strategies amidst the COVID-19 situation. So as Muslims adjust to the idea of celebrating Muslims' best-loved festive season in a socially distant way, Maxis Malaysia reminds us that it can still be equally purposeful. Narrated by a young Malay boy, Haziq, follow the video as they bring us through a series of real-life Raya stories covered in the media over the years. The video reminds the audience of the many adversities that we may have faced before and that this year, the adversity is in the disguise of a pandemic. As the Malay saying goes, "Setiap Syawal pasti ada cabarannya," — which translates to "Every Syawal (month of Hari Raya) has its challenges" — this video highlights the test and trials we've once faced and concurred. This year, we can do the same. Despite it all, every obstacle came with a silver lining. And this is why we too, should not lose faith and celebrate the little joys we have at hand!
That's it for our round-up of our favourite Ramadan-Raya campaigns this 2020! We hope these videos warmed your hearts as much as it did for ours. Sit tight and soak in the atmosphere of a virtually close-knit celebration. This year's Raya is a story to tell, so what's yours?
If you're looking to explore how to further connect with your audience this #StayHome period, have a chat with us. Hit our brand guardians up and let's discuss various digital marketing or eCommerce efforts that could go a long way. 😉