During the extension of the Movement Control Order (MCO) in Malaysia, we were denied the elements of the outside and had to continue missing our favourite things. The usage and set-up of Out-Of-Home (OOH) creative campaigns is something that we as a creative agency in Malaysia miss most during the #StayHome period. 
We've seen various branding campaigns during this COVID-19 season, but not OOH campaigns (duh) due to the restrictions from the coronavirus. While digital marketing campaigns have dominated for the better half of the decade, OOH campaigns and billboards still hold a spot in our hearts today. Maybe it's one of those you want what you can't have. 
Well, since we're all stuck at home (you should be!), here are some of the best creative OOH campaigns that we've come across in our time:
BBC's Dracula Billboard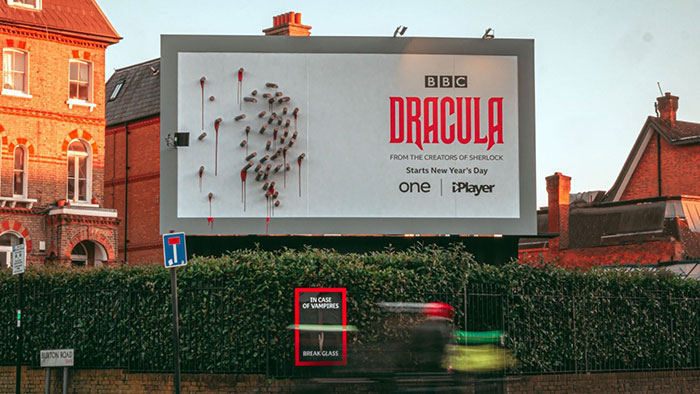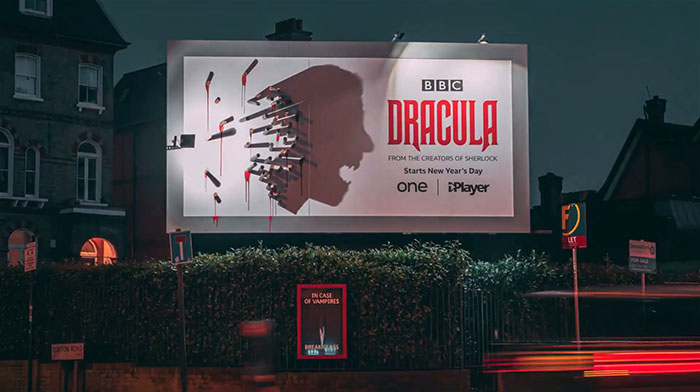 (Taken from Bored Panda)
They say the scariest things usually happen at night, which is the basis of this BBC's billboard to promote their new series Dracula.
If you're looking at it during the day, you'll probably be as confused as the next guy. During night time, however, the billboard casts a hauntingly beautiful shadow of Dracula's head to complement their billboard promotional design. 
The series itself might not be as captivating as the billboard, but it was definitely a sight to behold in the UK.
Pro-Tip: Set the mood and ambience of your campaign within your execution. Drawing upon the essence of the series, BBC replicated the effect on its billboard and made it a resounding success by playing with different creative elements like light and shadows.
LEGO's Imagine Banner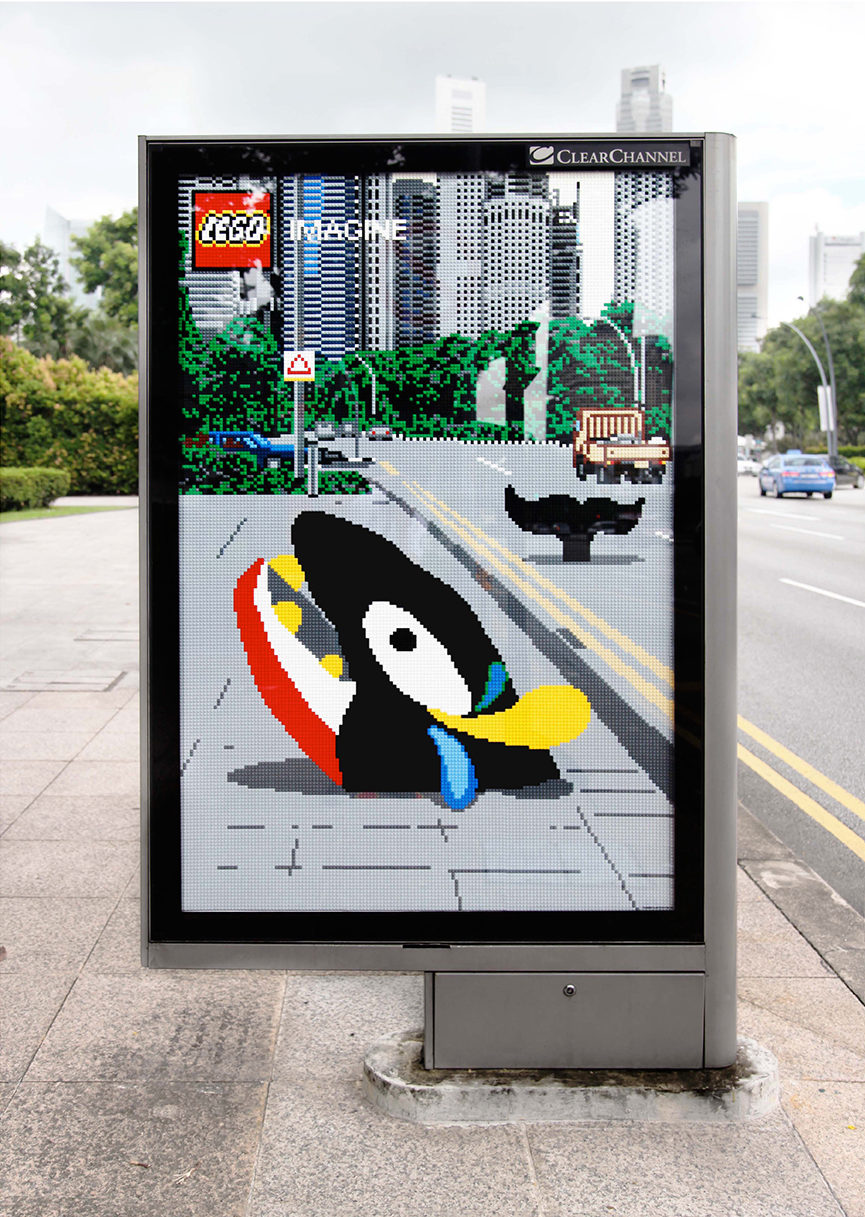 (Taken from Behance)
Imagination is a beautiful thing, which is what our childhood relied on as we played with our favourite toy i.e. LEGO. And that's exactly what LEGO had in mind in the execution of this creative OOH campaign in Malaysia.
Depending on the location of the bus billboard ad, LEGO recreated the existing environment with pixels and added fun and interesting elements to it, just like the one above. The pixels are used in a similar fashion to the LEGO bricks, which is the essence of their brand. 
Rounding up the billboard with a simple word 'Imagine', the campaign brought out the identity of LEGO and message of imagination with their products to inspire its audience. 
BRB, going to play with our LEGO now.
Pro-tip: Make full use the environment to your advantage. By immersing your brand and your products into the environment, you can create a much more impactful creative campaign through eye-catching visuals.  
Turner Network Television (TNT)'s Push For Drama
(Taken from Business Insider)
99% of people love drama. The other 1% are lying. (Don't quote this statistic on us though) 
TNT was banking on this fact when they released a jaw-dropping OOH campaign in the middle of Belgium. 
Not every OOH campaign requires a billboard — just a red button and a simple liner 'Push To Add Drama' was all it took to entice the passers-by of Belgium to push it and be treated to a visual spectacle.
Dramatic scenes of fights, shoot-outs, injuries and car chases appeared in front of the passer-by as onlookers were stunned and entertained. The ending banner 'Your Daily Dose Of Drama. We Know Drama' at the end to deliver the finishing touches in the form of a key message? Mmm… Perfection
Pro-tip: Don't be afraid to up the ante, go big, go bold and push boundaries with your creative campaigns! Brave ideas and executions are what draw attention and get people talking about your brand. 
Burger King's Burn That Ad
(Taken from Creative Bloq)
Speaking of going bold, the royalty of fast food has been a trailblazer and setting the competition on fire. Literally.
Technology meets traditional marketing in this Burger King OOH creative campaign execution, which incorporated Augmented Reality (AR) technology in various physical banners and encouraged onlookers to download their mobile application. 
By simply using the camera of their phones to view the various banners, a burning animation reveals a Burger King ad coupled with a free Whopper voucher for users to redeem it. Now, that's a promotion we can get behind. 
Pro-tip: Look at the technology that's available to you today, what's something you can use to shout-out your brand in a creative campaign? AR technology has been around for a couple of years, but not every brand has been using it to their advantage. (If you're looking to develop something with AR, we know a guy, or more like a full-service creative agency.)
Penline's Strong Tape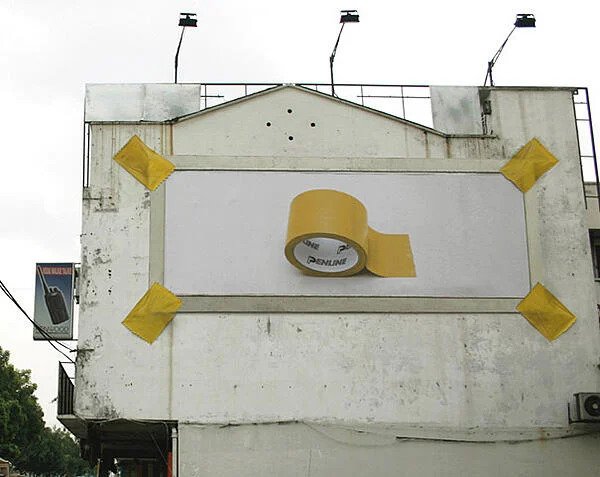 (Taken from Hubspot)
What's the point of having a tape that isn't strong, amirite? What about a tape strong enough to hold up a heavy billboard? At least that's what Penline wants you to believe in this creative OOH billboard.
One huge banner with 4 tapes on each corner and the product i.e. Penline tape, right in the middle of it with no text or key message to exemplify anything. Clear cut and straight to the point does it. 
It's the simplicity and the idea that gets to us, and how no words were needed to bring out the message.
Pro-tip: Give your product-list a once-over, which of them can you showcase in a creative manner to promote the Unique Selling Point (USP)? By doing so, you should be able to launch a creative campaign with that philosophy.
#StayHome Creative Agency At Your Service
Sadly, OOH campaigns are not worth executing at this point. BUT, a creative agency adapts to the current situation and that means developing creative digital marketing campaigns for you as we #StayHome! Leave a message after the beep if you're keen. *BEEP* (Contact Us)