Platforms like Instagram, Facebook and Twitter have become an integral part of our daily lives. Be it if you think you're bored or you're just truly bored (MCO, we know), it's become an instinct for your fingers to hover over and click on the same 3 apps and pretend like we have a completely active social life (even though you and I both know how we're usually praying for plans to be cancelled). What we haven't fully digested is the notion that we're too familiar with these social media interfaces. And ultimately, this reflects in how we, as users, react with website design as well. If you're looking for a web designer in Malaysia to boost interactions with your customers, you're at the right place. But before that, let's dive into the 5 ways you could integrate social media into your web design!
We live in an era where photographs and videos speak more than words ever did. This is because humans are visual creatures. So if social media can thrive on images, so can your website design. Look to incorporate the Instagram feed widget into your website design and watch how it gives you the opportunity to advertise your products and services. Building on the fact that the human brain recognises a familiar object within 100 milliseconds, you're bound to succeed in capturing your website visitor's attention when you integrate this feature in. Let's take a look at how KL Foodie has incorporated the IG feed into their website:
Not only does this boost KL Foodie's credibility, but the video icons and image orientation also allow users to see the resemblance to an Instagram feed. As such, it also tells users that you can be found on that particular social media platform, which boosts your brand's social media presence. Incorporating the IG feed here makes them seem relevant and easier to connect with.
Social media users of today are more than keen on sharing about themselves. It is all about creating this presence online that you want people to know you for. Hence, when websites make it easy to 'Share to Instagram Stories', 'Tweet this' or 'Pin it', users can't help but be inclined to you. Allowing them to instantly share pages or articles from your website is an essential feature that you definitely should include in your list. Here's how I Concept Malaysia allows our articles to be shared on various socials: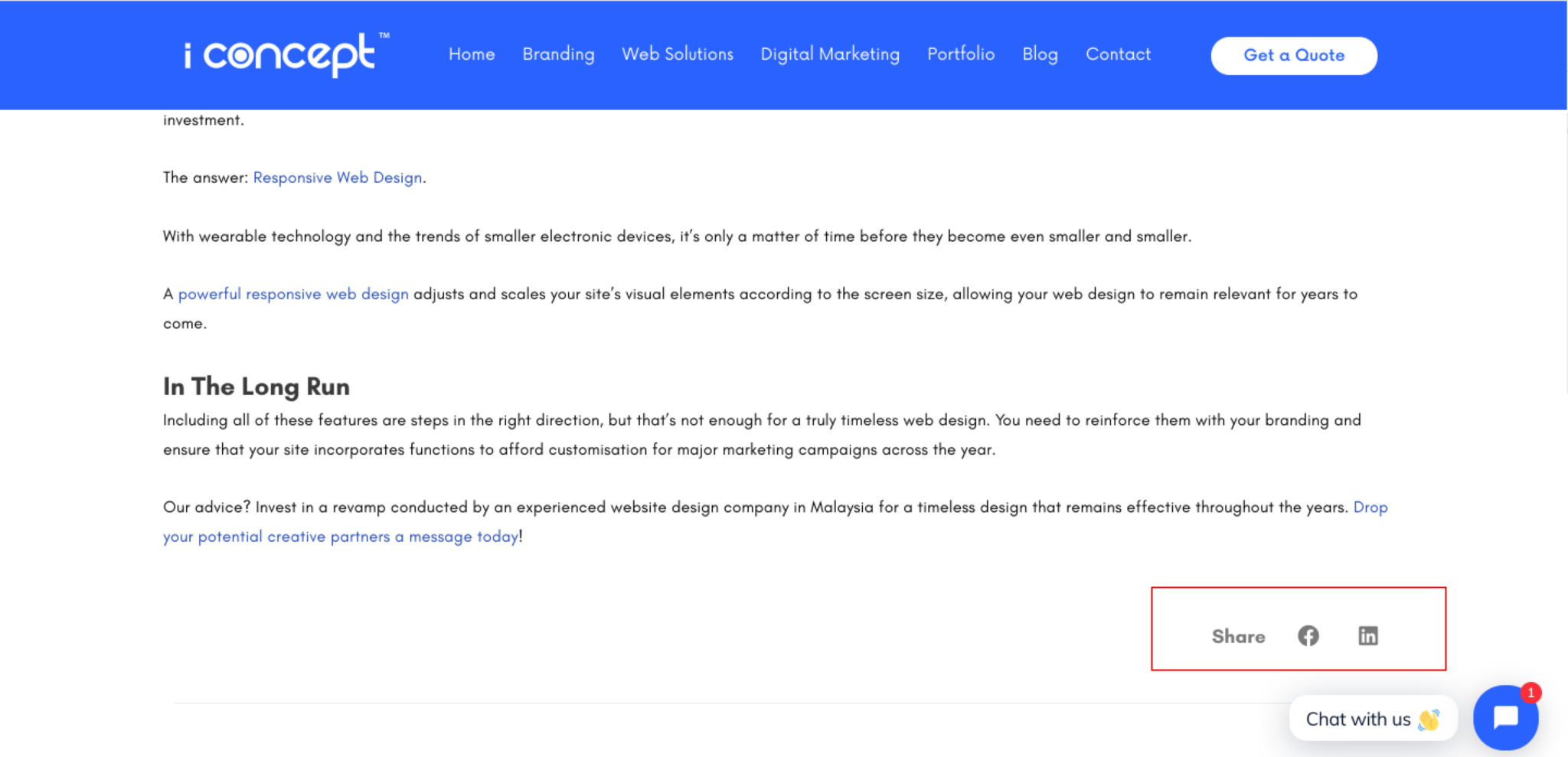 Note: Ensure that the sharing option only takes 3 clicks or less, to optimise user experience (UX). You don't want to lose web visitors when it takes too many clicks to perform the desired action!
Include hashtags or handles
Just like how #stayhome is trending during this period of COVID-19, you can make your brand trend on social media too. Craft a catchy hashtag and utilise it across your website and social media platforms to attain brand recall. This allows users to easily identify your brand at any point in time and it makes you appear a lot more fun as a brand. Here's how Sephora Malaysia worked the usage of hashtags to their advantage on their website: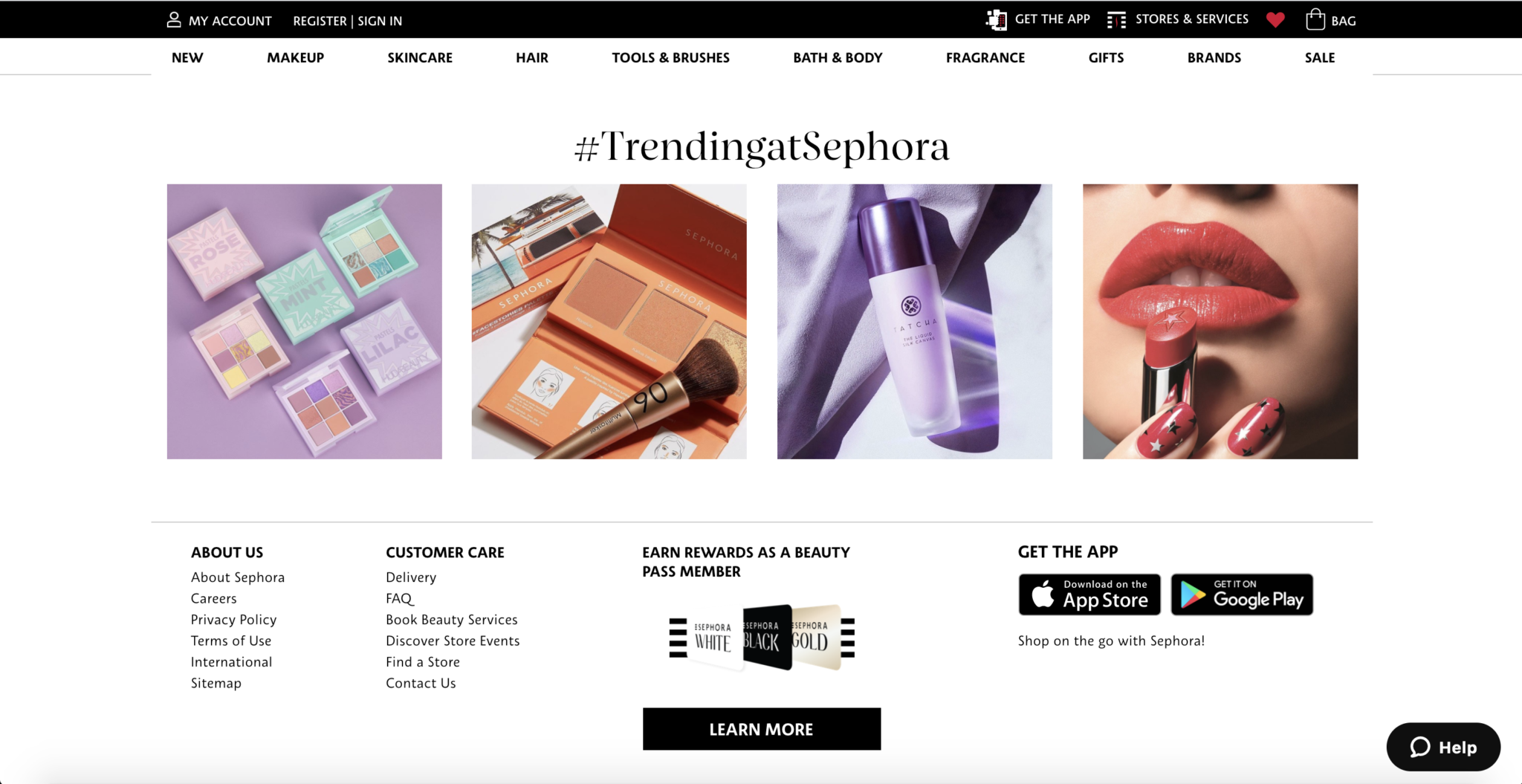 Now, that doesn't mean you proceed to hashtag every header on your website. Knowing how to use hashtags is crucial for every platform so make sure you do your research and understand your target market before crafting one!
Establish branding synergy
From colour palettes to font choices and even graphical elements, remember to keep your branding consistent across all platforms. In order to increase brand awareness and allow consumers to easily identify your brand, it is crucial to utilise visual cues like logos, slogans or even fonts to distinguish yourself from other brands. Establishing brand awareness is the first step, hence taking it to the next will require you to maintain brand consistency for your website design and social media collaterals.
This simply means allowing your users to log in to your website (should they require) with their Facebook, Instagram or even Google accounts. Chances are, your website users may already have one of the few social accounts and have it saved on their personal devices. Hence, allowing them to login with the same credentials can only increase your conversion rates. By shortening the registration process, not only are you speeding up the deliberation process of whether they want to buy from your website, but it also contributes to smooth user experience (UX).
Being a website designer takes a lot more than just design skills. It takes time and effort to understand what your target audience will need to figure out the best way to help them achieve that, on your website. And now that you know how social media can impact web design, go forth and create a social media-friendly website of your own. Or you could let us handle that job for you. Drop our brand guardians an email and we'll get right back to you!