"Fashion changes, but style endures" — Coco Chanel
Fashion is what's trending but with style comes identity. Nevertheless, the fashion industry is approximately a 1.5 trillion dollar market and is more saturated than you'd think. So what sets your brand's website apart? When you establish a strong brand identity, of course! To achieve this, having strong imagery or emphasising on customer loyalty and conversion rate optimisation (CRO) are just some of the many factors that Malaysian website designers value. Let's dive into how you can further optimise your website in the Malaysian fashion industry.
Incorporate strong imagery
Pictures speak for itself, and even more so in the fashion industry. Compared to a brick-and-mortar store where consumers are able to view the clothing item in person, a website relies on images to feature its apparel in all its glory. The key here is to utilise outstanding photography and keep it consistent throughout your website to reel your audience in. Here's how Versace's above-the-fold looks like: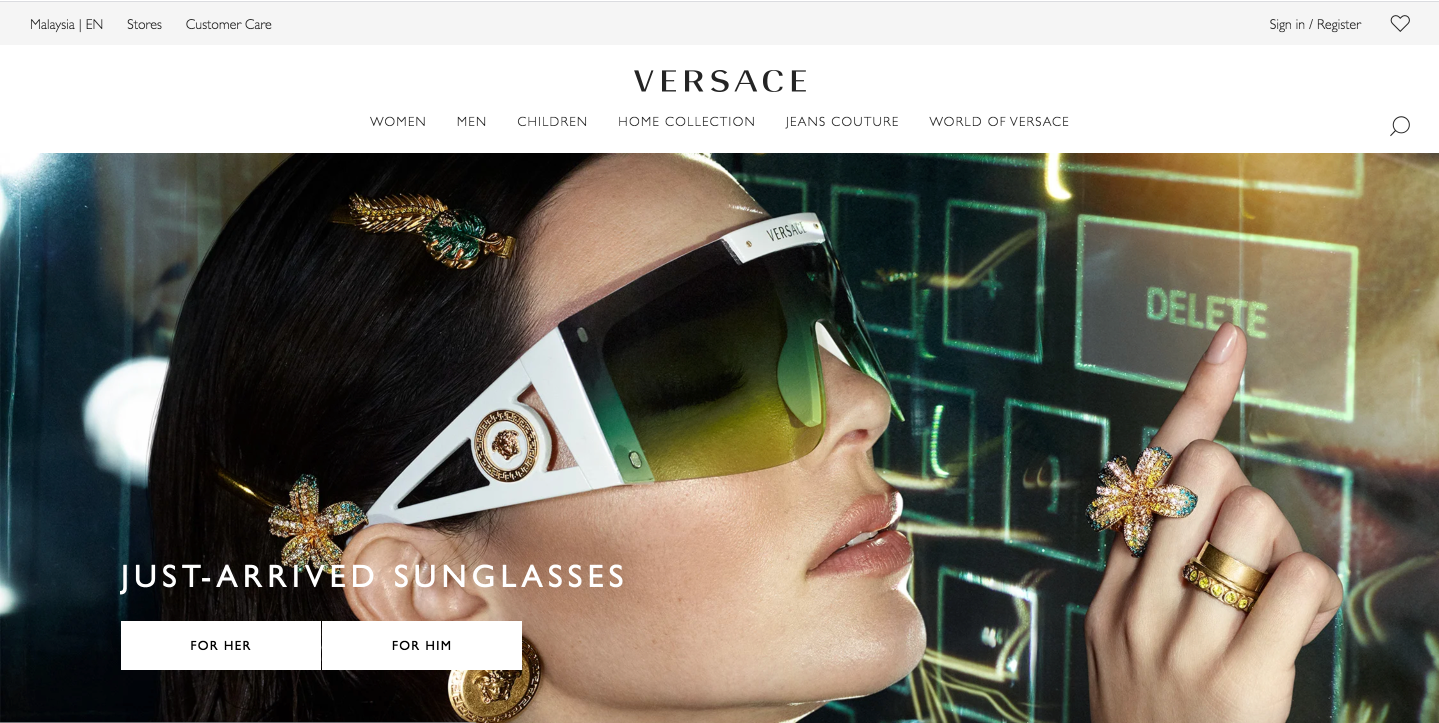 With the bold usage of model photography paired with copy, it's more than obvious by now that they just dropped a new collection of sunglasses this season. In addition, the clean navigation bar allows the image to effortlessly stand out while the message is sent across neatly. Fashion is all about appearance, and that includes your website. You know what they say — don't undermine the power of first impressions (online).
The best way to connect with an audience is when your brand appears, well, human. Instead of coming forth as unattainable or unapproachable, it's important to show that your fashion brand has its own personality. There's a multitude of ways to go about humanising your brand. It ranges from having a unique tone of voice for your brand to social media marketing efforts. To kickstart this initiative, you have to first determine your brand voice. Is it witty or sassy? Classy or conservative? There's no right or wrong — just what's apt for your fashion brand. Have a look at Nike's brand voice: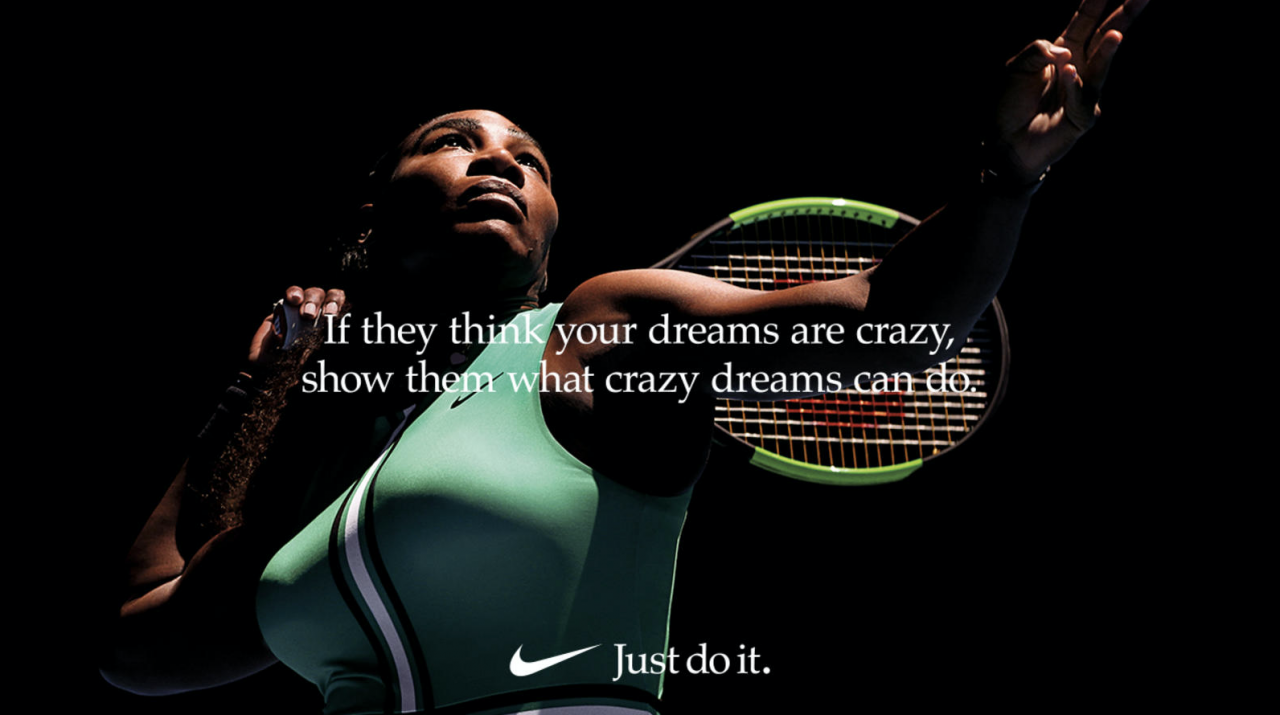 Photo courtesy of The Drum
Nike is known for empowering athletes all around the world. They're inspiring and motivational. Here, they are not just selling the product, they're promoting the values that the company believes in. Crazy dreams may start with Nike apparel but ends with your effort. Hence in order to find a voice for your brand, it is imperative to know what your brand stands for. You can't help but be inclined to lean towards a brand that echoes your beliefs and urges you to be better.
According to Forbes, it costs 5 times more to attract new customers as compared to existing ones. So if that isn't a strong reason for you to prioritise customer loyalty, here are more reasons why. Ultimately, every brand works towards generating revenue. Starting from an existing community of customers can give you a head start as the trust in your product or service is already there. Building customer loyalty doesn't have to just manifest as loyalty programs, there are numerous other ways to go about doing this — the key is to get customers directly involved with your brand. Here's a tactical way that Net-A-Porter uses to convert consumers into returning consumers: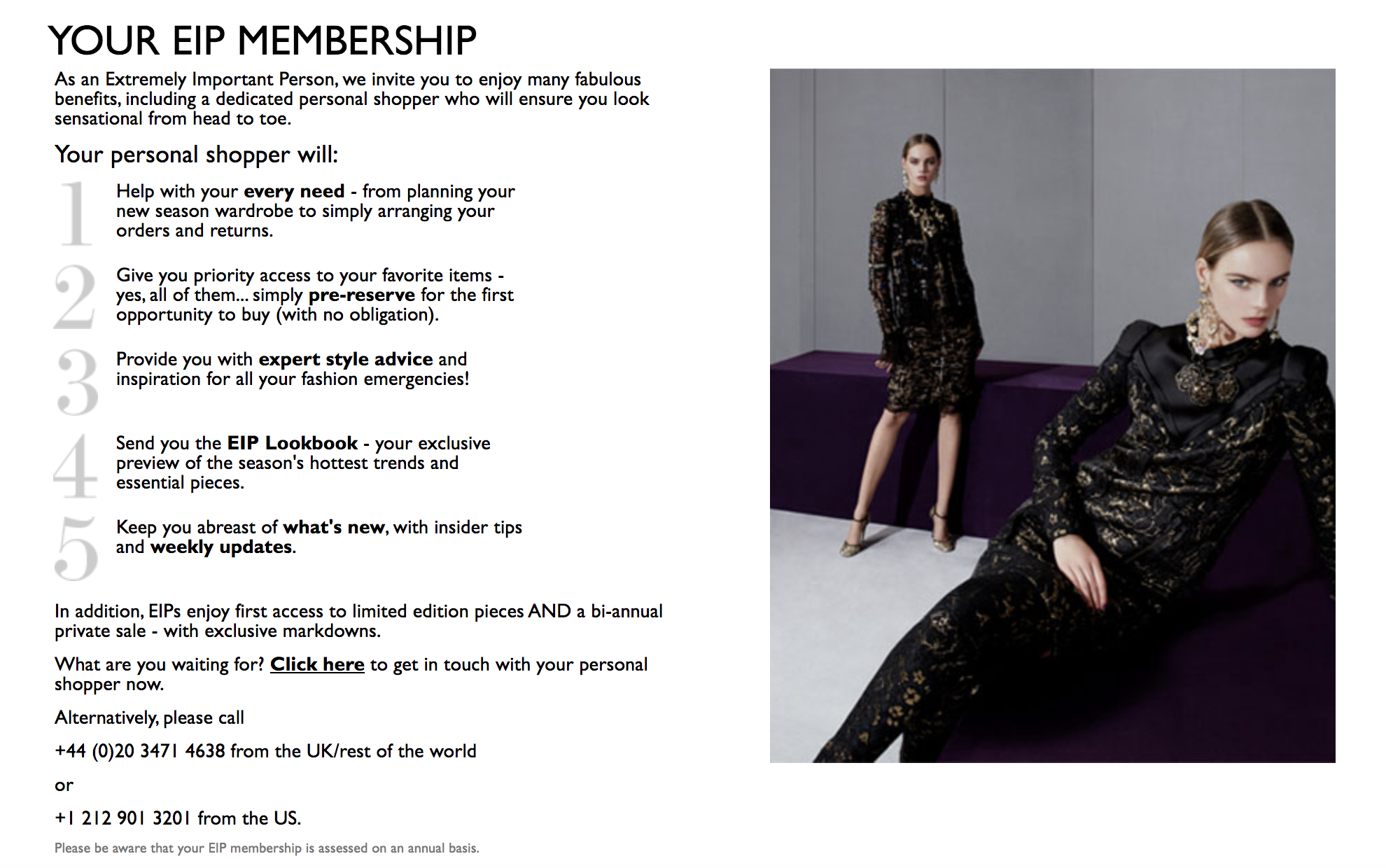 Value conversion rate optimization
Conversion rate optimization (CRO) is essentially the process of web visitors ultimately achieving the goal of being on your website e.g. buying a product. In order for your fashion business to see a conclusive increase in the number of purchases made, it is first important to determine the steps taken to increase the CRO. These include providing users with just the information they need. So let's get down to basics. From product specifications to sizing details, users will be more compelled to make the purchase when they have a validation that this product fits all their requirements. This is how ASOS features their product page: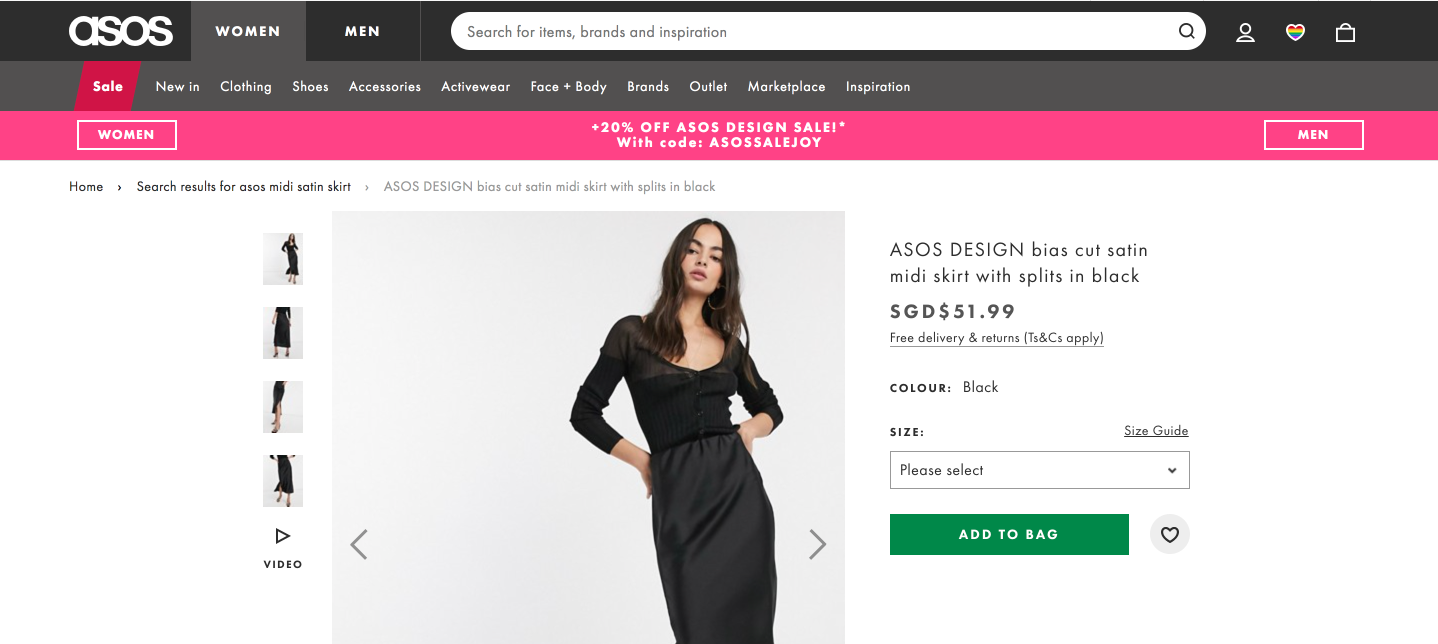 On top of static images, ASOS equips web visitors with a video for users to fully visualise how the skirt looks like. This not only encourages the user to make the purchase and speeds up the consumer decision-making process, but it also manages their expectations of the actual skirt. Plus, ASOS also offers a thorough and complete size guide to make sure you get your hands on the right product for you! Leaving no space for doubt, ASOS's product pages are well optimised to understand consumers and the steps they take to complete the goal.
Offer extensive navigation features
Navigation in website design is crucial. How often have you gone on a fashion eCommerce platform and searched for an item but the results page featured multiple other products instead? 'Cause we have. So in order to avoid presenting a clutter of products for consumers, allow the option of filtering the search results. Singapore's online fashion resale platform, À LA MODE, is a prime example of a fashion website that provides a detailed menu bar to categorise their plethora of clothing pieces.

If you'd like, they even have an option for you to shop by occasion, depending on what you're searching for that day. From product style, type, colour and size, the options are plenty. Streamlining the options for consumers can give your business an advantage.
Information on return and exchange policies
Transparency is key. So if an item is unable to be exchanged or refunded, your consumers will need to know so. Present return and exchange policies on a clear page, stating all that is required to get a refund or exchange products. As users are unable to view the clothing pieces in person, this information will aid them in the event an item does not fit or not what they expected to be. This way, you're able to build trust amongst consumers and they don't feel cheated. This is how Real.m. showcases their return or exchange policy: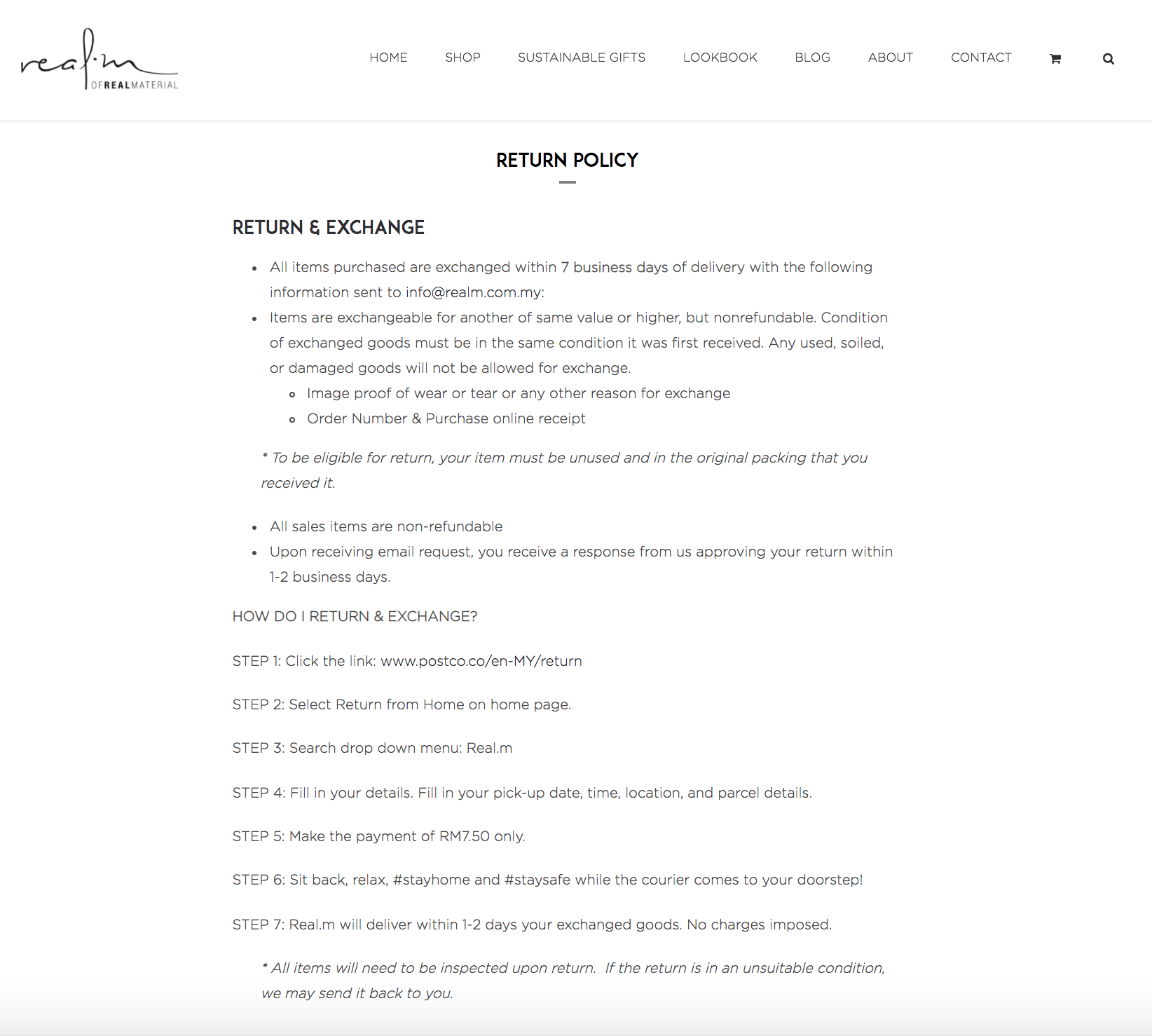 Note how the brand goes the extra mile to detail the steps a consumer has to take in order to make a successful return or exchange of a product. With the consumer in mind, this sustainable Malaysian fashion brand is mindful to inform web visitors of the necessary step-by-step actions. Remember, consumers want to know about return and exchange policies before they buy a clothing item, and not after!
It can seem like a lot to take in at once. Don't fret! If you're in the search of a web or eCommerce designer in Malaysia, look no further. Drop our brand guardians an email and we'll be more than pleased to tend to your queries.